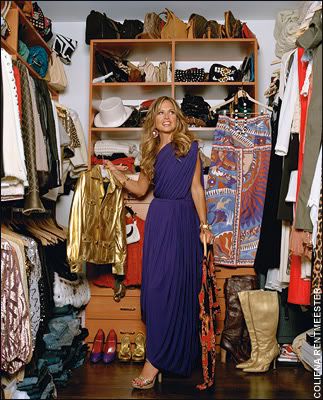 Her fly on the wall show,
The Rachel Zoe Project
has been recommissioned for a second series in the States and will be hitting the UK next month and on top of this she has been snapped up to design a clothing line. I would say that it must be pretty great to be
Rachel Zoe
right now. With a loving hubby, a die for wardrobe and a wonderful lifestyle; she is living the life that many would dream of. As stylist to actresses such as
Debra Messing, Jennifer Garner
and
Joy Bryant
,
Rachel
has become one of the most coveted name in fashion and is now a household name. However, people still get confused about what a stylist actually does. Some people think they just shop all day, pick out clothes and get chummy with the designers but the life of a stylist is a bit more complex than that. This is what journo and author,
Tamsin Blanchard
has to say about styling in an article about high profile stylist.
"Fashion stylists are the people who decide not so much what we are going to wear, but what we are going to buy. They choose the clothes on the pages of the magazines; they decide that Jennifer Lopez looks great in that Versace dress; they are the ones who select the clothes that will make it on to the runway and into the buyers' order books."
I did a bit of digging around and have come up with a list of five stylists whose work I rate:
William Baker
This is the man who puts
Kylie
in those sumptuous outfits. However take note because William Baker is far more than a stylist, he is in fact Creative Director to the princess of pop. His previous clients have included
Vivienne Westwood
where he worked on her flagship store.
Andrea Lieberman
She dresses two of the most stylish women in the world;
Gwen Stefani
and
Jennifer Lopez
. She takes responsibility to introducing Ms Stefani to the world of style and I would call that some feat considering how renowned Stefani has become in fashion terms. She was also the very same person who put Jennifer Lopez in
that plunging Versace gown
which she wore to The Grammys which earned her many column inches. Her other clients are
Drew Barrymore and Faith

Hil
l
.
Eric Daman
He has been dubbed the male version to
Patricia Fields
with those amazing outfits that he puts together in
Gossip Girl
. The story lines might be hotter than hot in GG but it is the fashion that has everyone talking and this is all down to a certain Mr Daman. The former model got his big break when he was discovered by
Steven Meisel
(as you do) who promptly booked him for a Calvin Klein advert. He then went onto to work as a costume designer on
Sex and the City
.
Philip Bloch
This is the man who dresses the Hollywood A lister for glitzy events such as The Oscars, The Golden Globes and The Emmys.
Halle Berry, Nicole Kidman, Sandra Bullock, Salma Hayak, Will and Jada Pinkett
all have Mr Bloch on speed dial. When he is not mixing with fashionistas Philip is either acting or contributing to various newspapers and magazines.
Christina Ehrlich and Estee Stanley
Their clients include
Demi Moore, Jessica Biel, Penelope Cruz, Nicole Ritchie
as well as
The Olsen twins
whose style are admired by young women all over the world. The duo are based in LA and have been working together for over five years. Their usp is putting starlets onto the red carpet and turning them into stars. Christina and Estee recently launched their own line,
Ms Davenporte
which is stylish and easy to wear items for women.
Funnily enough both
Carine Roitfeld
, editor of
French Vogue
and
Katie Grand
founder
Pop magazine
and now editor of
Love magazine
started out as stylists. So it goes to show that stylists rock! Check out this article
here
that was published in
The Observer
back in 2002 about stylists for fashion brands. Then there is this article
here
that features stylists who work in the music industry.